03 mai 2017
Je réinvestis enfin ma boutique ALM aprés pas mal de temps en apnée pour elle ! :)
Du coup j'avais envie de vous parler un peu de moi.
I finally reinvest my shop ALM
So I wanted to talk to you a bit about myself.


Je suis créatrice de poupées, poupériste comme j'aime le dire. On me regarde quelquefois comme une farfelu car les gens ont souvent beaucoup de clichés en tête. La poupée d'art, se situant entre la poupée de chiffon et la sculpture, est complètement méconnue en France.

I am a doll designer. Sometimes I look at myself as a wacky person because people often have a lot of clichés in their heads. The art doll, situated between the rag doll and the sculpture, is completely unknown in France.
J'essaie de faire connaître mon travail par le biais des salons de créateurs et de métiers d'art, malheureusement ce n'est pas non plus la panacée, alors si vous avez un réseau d'amis(es) n'hésitez pas à partager, ils seront peut-être ravis de découvrir qu'une poupée peut aussi être une oeuvre originale qui amène beaucoup de poésie, et si vous avez un compte facebook merci de mettre un j'aime sur ma page, et d'inviter vos amis à en faire autant, cela améliore également sa visibilité.

I try to make my work known through the exihibitions of creators and crafts, unfortunately it is not enough; so if you have a network of friends do not hesitate to show my works.They may be delighted to discover that a doll can also be an original work that brings a lot of poetry, and if you have a facebook account thank you for putting a like on my page, and invite your friends To do the same, it also improves its visibility.
J'ai eu des créations en boutique où l'on demande de plus en plus de charges au créateur notamment de payer une location, payer une commission, faire des permanences, ce que je comprends puisque les boutiques ont beaucoup de mal à tenir elles aussi.
I had creations in store where we ask more and more charges to the creator : to pay a rent, pay a commission, be seller one or two day in the shop free, what I understand since it's difficult to have a store which works very well .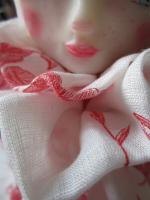 J'essaie de gérer deux e-boutiques moi-même même si j'ai l'impression quelquefois de lancer des bouteilles à la mer et d'être perdue sur l'océan... une pour l'étranger et ALM pour la France
I try to manage two e-shops myself even though I sometimes feel like throwing bottles into the sea and being lost on the ocean ... one for overseas ETSY and ALM for France
https://www.alittlemarket.com/boutique/lilipom_lore-83811.html
voilà, je suis à mon compte en micro-entreprise, (déclarée, payant des cotisations mais sans avoir de retraite),

j'ai une vraie passion, (j'ai la chance de pouvoir m'y adonner, même si cela rime avec des sacrifices par ailleurs)
j'en sur-vis, :)

Here, I am in my micro-company, (declared, paying contributions but without having retirement),
I have a real passion, (I'm lucky to be able to indulge in it, even if it means sacrifices elsewhere)

Tout ça pour vous dire que je suis contente d'être revenue sur ALM,
maintenant à moi de tenir la barque et d'avancer,
j'espère que vous serez là pour me faire signe et me dire que je suis sur la bonne route !
All this to say that I am glad to be back on ALM,
Now to me to hold the boat and advance,
I hope you will be there to signal me and tell me I'm on the right road!
A cette occasion je vous propose une réduction de 10% s'appliquant sur toutes mes créations,
avec le code FETEMERE
car c'est aussi pour célébrer la Fête des mamans

Merci !
On this occasion I offer you a 10% discount on all my creations,
With the code FETEMERE on ALM and for ETSY, please let me a message on my etsy shop because I don't no how make a discount, when I will have your message I can apply the discount on the doll that you are choice and book the doll with your name on the title !

Because it is also to celebrate the Mother's Day


Thank you !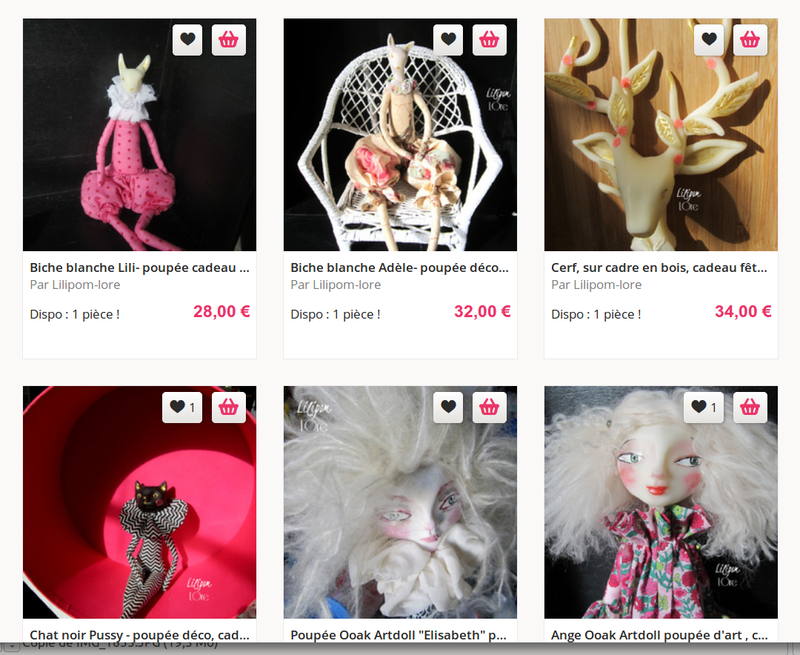 Enregistrer
Enregistrer
Enregistrer
Enregistrer